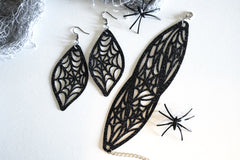 Did you know that you can create sparkling jewelry with nothing but Glitter Heat Transfer vinyl? I made some spooky spiderweb earrings and bracelet. You can find the design here
First, cut two pieces of Glitter HVT and press them together. You can use a heat press or an iron. Just make sure to put the HTV between two sheets of parchment paper or Teflon sheets. 
Press for about 15 seconds at 320 F. Don't remove the carrier sheets yet. Place the glitter "sandwich" on your cutting mat and peel off the top carrier sheet. You want to leave the bottom one on there, it helps to achieve a smoother cut. 
Now you can cut the vinyl. I used my Silhouette Cameo 4. Blade 10, Force 33, 2 passes. Always do a test cut, the condition of your blade can make a huge difference.
Weeding can be a little tricky. You won't be able to see the cut lines. Here's a trick you can use. Roll the vinyl and the loose pieces should pop up. 
Add the hoops, jump rings, and clasp. Your sparkly spooky jewelry is ready!