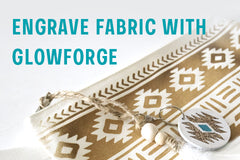 Did you know that you can engrave fabric with your Glowforge? I'm in love with the vintage look you achieve. 

I used a 100% cotton 16oz Canvas Pouch. I put a very thin piece of cardboard on my crumb tray to keep my pouch clean (my crumb tray needs some deep cleaning soon!). I placed the pouch upside down (zipper facing downwards) on the cardboard so the air assist fan wouldn't touch the top part of the bag that is slightly thicker than the rest. 
I used my Aztec inspired pattern. You can find it here
I uploaded the SVG file, resized it to fit my pouch and ungrouped it. I then deleted all the parts that were outside the pouch. 
Here are the settings that I used. Speed 700, Precision Power 10, Lines per Inch 270
As you probably know, it takes a while to engrave but it's so worth it! The result looks stunning!