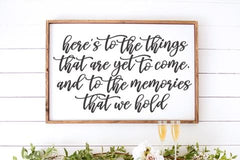 It's been a turbulent year with so many ups and downs. I can't even begin to tell you what a rollercoaster ride it has been for me. But I'm pretty sure you have a good idea of what I'm talking about because we were all in the same boat. Even though this year came with so many challenges it also came with countless blessings. I'm grateful for all the memories I've made, the friends I've found and the lessons I've learned. 
I love the New Year's saying "Here's to a bright New Year and a fond farewell to the old; here's to the things that are yet to come, and to the memories that we hold." It's full of positivity, gratefulness, and hope. That's why I used it to create this month's freebie. You can download it here
I wish you a Happy New Year!
And here is to a wonderful group of creatives who I'm so fortunate to work with! These amazing ladies have unique craft ideas with free files included for you!  
New Years Eve Paper Napkins with Iron On Vinyl
New Year Wishes and Midnight Kisses