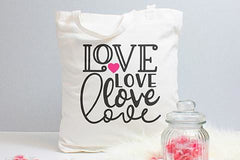 I can't wait for Valentine's Day because it's the perfect occasion to share some love and show the people in my life how much I appreciate them!
This year I want to personalize canvas bags and fill them with goodies like candy, markers, notebooks, and other little knickknacks.
I want to make more than one bag that's why I created a simple design with only two colors/layers. You can download the design here.
Weeding and pressing the heat transfer vinyl won't take long and I can create several bags in no time. 
You can also put the design on a pillow, a mug or a shirt. Square designs work great for many projects. 
Stamped Valentine's Day Gift Wrap
My Sister is my Valentine DIY T-Shirt
Tic Tac Toe Valentine's Day Free Cut File
No Hugs or Kisses Just Valentine Wishes SVG
Valentine's Day Free File (This file is no longer available. I apologize for the inconvenience)
Want more designs? Here are some Valentine's Day designs that you can purchase on my page


More Chameleon Cuttables Designs