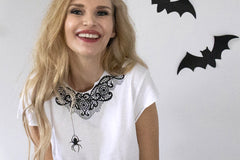 Hey there fellow Halloween fan! I'm so glad I can share this super fun tutorial with you. Let's dive right in!
You'll need:

Cutting machine (Silhouette Cameo or Cricut)

Heat transfer vinyl. I used Siser Easyweed Matte from SparkleBerry Ink. You can get it here

White T-shirt with crew neck

Spider lace design. You can get it here
Fabric scissors
1. Cut the HVT. I used Siser EasyWeed Matte because I prefer the matte finish to the shiny finish. The design can be ungrouped and the spider can be placed horizontally to save vinyl. 
2. Weed the design
3. Place the lace design close to the neck and press at 300F for about 3 seconds.
4. Remove the carrier sheet, place the spider, and press again for 3 seconds. Don't forget to use a Teflon sheet (or parchment paper) because part of the design is now exposed. 
Remove the carrier sheet from the spider and press once again for a full 10 seconds (with Teflon sheet or parchment paper). 
6. Now you cut off the crew neck. Cut close to the design following the curve of the design. Then cut off the sleeves to finish the look.
Now all you need to do is wait for the spooky season to begin and wear your new shirt!