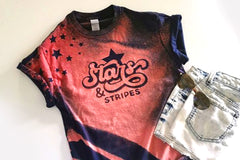 If you are anything like me you've probably bleached some shirts in the past few years. It's a fun trend that isn't going anywhere. I actually created my first bleach shirt blog post in 2016. You can find it here
Not much has changed since then. But there is always room for improvement!
Check out my 30 Second Video and see if you can learn a thing or two. If you enjoy quick but relevant craft videos, subscribe to my YouTube Channel. It would mean a lot to me!
Here's the best part!
The design is for FREE, but only for a few days. 
If you haven't tried bleaching a shirt yet, give it a try! I love it because each shirt turns out different and unique!