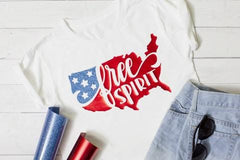 In anticipation of 4th of July I've already started making shirts. This one is for my 9 year old daughter who is a free spirit. 😎 I will probably make myself a matching shirt, too. I used Siser Electric Red and Siser Glitter Blue. The picture doesn't really do the Electric Red justice, I love how it changes depending on the reflection of the light. 
I know that this 4th of July will probably not be anything like we are used to but that shouldn't stop us from celebrating and being grateful for our "land of the free"! 
You can find this file here 


I wish all of you a Happy 4th of July! 
But wait! You are in for a treat!! I've partnered with 11 amazing designers who have some fabulous freebies for you! Follow the links underneath to see what these incredible ladies have in store for you. I promise their gorgeous designs will make your patriotic craft projects super fun and unique!
God Bless America by Polka Dotted Blue Jay 

Freedom and Fireworks by Sunshine and Munchkins 

Pledge of Allegiance by Poofy Cheeks 

Little Firecracker by Simply Made Fun 

Faux Pocket by Crafting Overload 

Stars and Stripes Heart by Sugar Bee Crafts 

Fireworks by Studio Ilustrado 

Patriotic Unicorn by Sarah Hurley 

Freedom for All by The Craft Print 
Stars and Stripes Glasses by Oh Yay Studio

Love, Peace, and Fireworks (This file is no longer available. I apologize for the inconvenience)