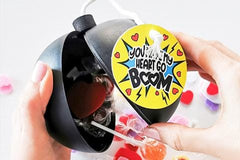 Each year I scramble to come up with a new Valentine's treat idea for my kids to hand out to their friends. We've pretty much exhausted all Pinterest ideas and it's getting harder each year to come up with something new and fun. So my kids and I had to get creative. Here is our idea - a treat bomb filled with candy, little goodies (erasers etc.) and lots of love. Are you ready to find out how we've made them? Great! Let's get started!
You'll need:
Plastic Fillable Ornaments
Black Spray Paint (Matte)
White String
Black Foam Sheet (self adhesive)
Print and Cut Boom Tags
Candy and Goodies


Start with spray painting the ornament halves. I tried glossy spray paint but it didn't work well at all. The matte black paint works so much better and looks great!


Once they are dry you can go ahead and fill them with candy but you can do that after you've finished creating the bombs as well.
Close the ornament, secure it with a string (not too thin), and tie a knot.
Grab your black foam sheet and cut a long rectangle (about 1/4 inch high, 3-4 inches long). I used self adhesive foam. Peel off the backing and wrap the rectangle around the top/knot. It should overlap a couple of times. 
Use the Print and Cut You make my heart go boom template to create tags. Use a whole puncher to add a whole. Add the tag to the string.
That's it! All done!